Bob Carlin

Producer, Performer, Teacher & Researcher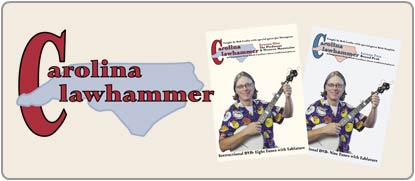 Carolina Clawhammer a two-DVD instructional video set is now available from Mel Bay Publications or from your local music store!
North Carolina is rightly known as producing some of the finest banjo players in southern traditional music. In these DVD, Bob Carlin, one of the state's finest pickers, teaches some of Old Time Music's best-loved tunes. Many of these pieces Bob learned first-hand, sitting at the feet of master musicians no longer with us. Others have taken Carlin years to decipher from old recordings.
Volume One covers the Piedmont and Western Mountains, while Volume Two concentrates on the well-known "Round Peak" style.
Each song is played at a moderate tempo, and then broken down, section-by-section, to highlight crucial left- and right-hand techniques. Tablature for each piece is also included.
Lesson 1 The Mountains and The Piedmont
includes the following selections:

-Cricket on the Hearth
-June Apple
from Carlie Marion
-
Keep in the Middle of the Road
-Jimmy Sutton
from Gaither Carlton
-Cluck Old Hen
-Mississippi Sawyer
from Dobson Wagoner

-Molly Put the Kettle
-On Old Corn Liquor
from Odell and Nate Thompson
Lesson 2 Round Peak
includes the following selections:

-Ducks on the Millpond
-Solider's Joy
from Kyle Creed
-Rockingham Cindy
-John Henry
-John Brown's Dream
from Tommy Jarrell
-Sugar Hill
-Round Town Gals
-Train 45
from Fred Cockerham
-Tater Patch
from Charlie Lowe
2401 W. Center Street Ext. • Lexington, NC 27295

(336) 248-6202 •

e-mail